Hitler's Tax Forms on Deposit at U.Va. Library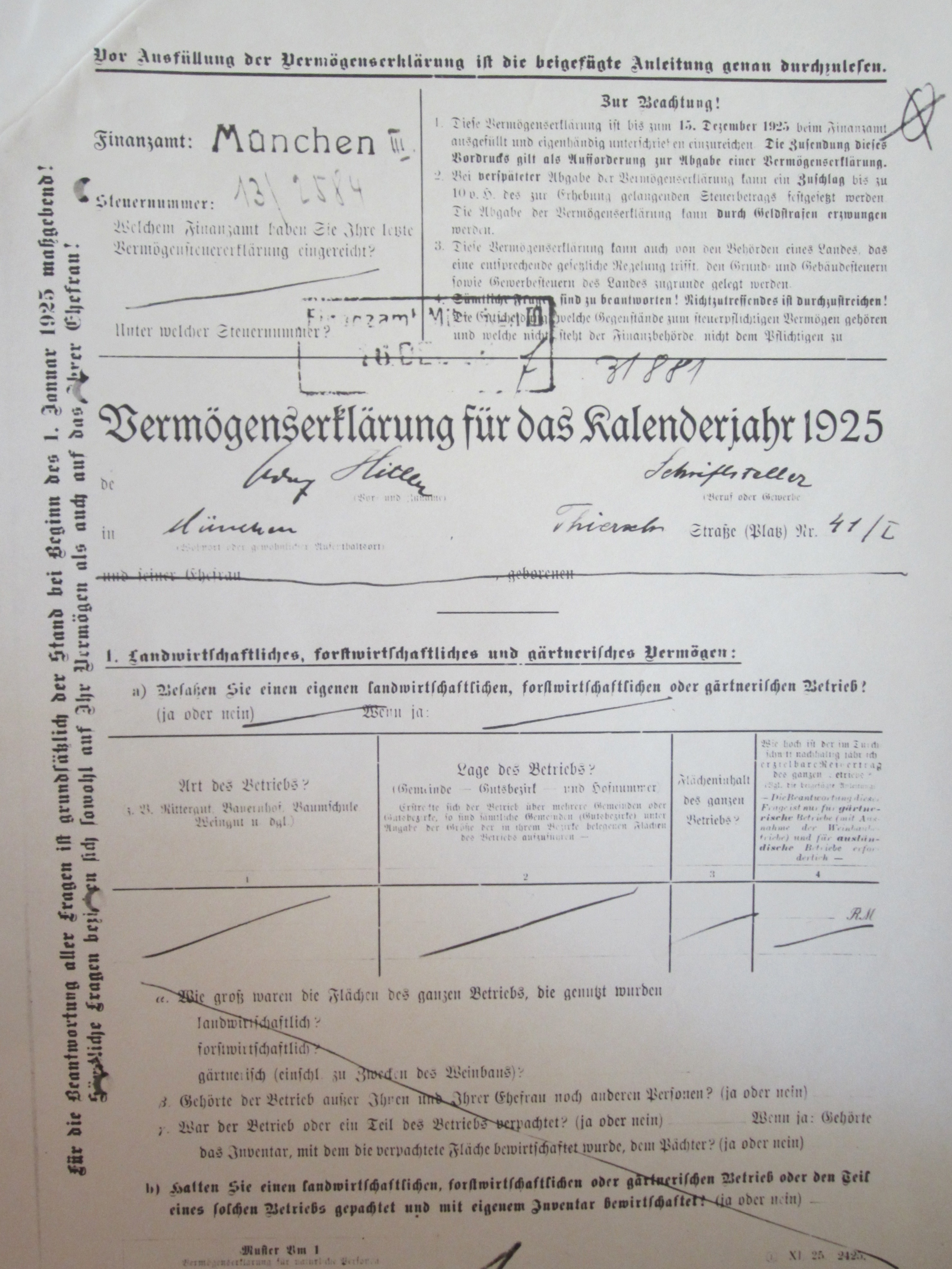 Sometimes, even the University Library doesn't know about all of the things it has in its collection.
Take the strange case of Adolf Hitler's tax returns. While searching around for Headlines in December, I stumbled upon an odd article in London: The News, an otherwise forgettable piece that included this rather startling passage: "Hitler's tax returns from 1924 too 1935 can be seen either in the Bavarian State Archives or the Alderman Library of the University of Virginia, USA."
I had never heard of U.Va. possessing any of Hitler's papers, so I queried Alderman's nearly infallible reference desk. The librarians there know nothing of it.
Still, it seemed to be a pretty specific reference, naming not only the University, but Alderman Library specifically. So I emailed Molly Schwartzburg, a curator at the Albert and Shirley Small Special Collections Library. And then I forgot about it for more than a month.
In late January, Schwartzburg got back to me. Believe it or not, the library did have Photostat copies of Hitler's tax returns. She planned to discuss them in a post on the Special Collections "Notes from Under Grounds" blog timed for tax season.
The post went up on Friday. It talks about the tax records in the library's care from three people: Thomas Jefferson, Walt Whitman … and Adolf Hitler.
It seems that a former U.Va. professor named Oron Hale (right) once "took part in a special mission of the U.S. War Department's Historical (Shuster) Commission in Germany, interrogating the surviving defeated leaders of the Third Reich, including Hermann Göring, Wilhelm Keitel, Karl Dönitz, and Joachim von Ribbentrop among others." He donated his papers to Alderman Library, which included "his personal and office correspondence, manuscripts of his published writings, records relating to his academic activities and government service in Germany, and declassified intelligence reports."
According to the blog post, "One unexpected, and fascinating component of the collection is the set of contemporary photostats of Adolf Hitler's tax returns from 1925 through 1935, which were among the documents seized by the Allies during the war."
The blog goes on to to describe the records, which trace the future Fuhrer's rise from a poor writer to a tax-exempt dictator.
It's worth a read. Thanks for the detective work, Molly!